Donbas region has been 'completely destroyed', Zelenskiy says; Russia will consider opening Ukraine's Black Sea ports only if western sanctions lifted, Moscow says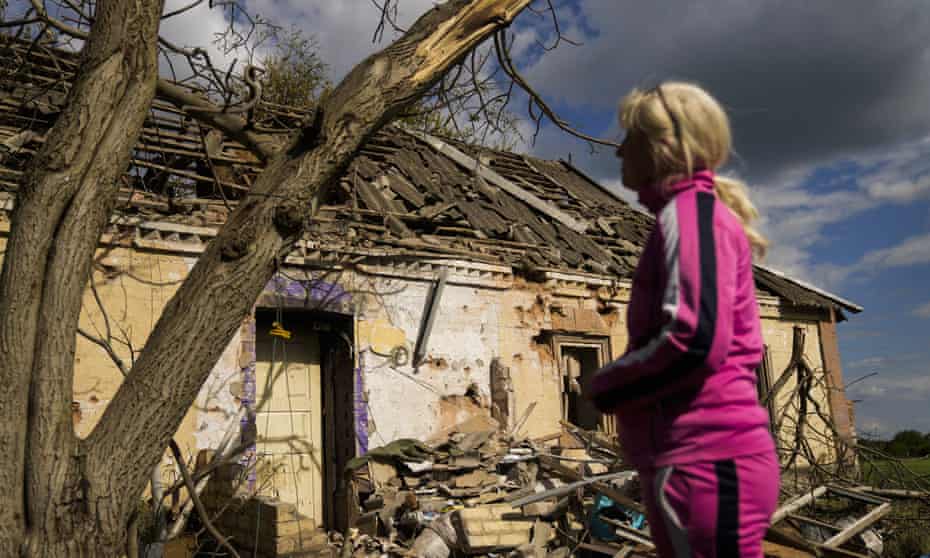 Ukrainian president Volodymyr Zelenskiy has said the Donbas, where Russia is now concentrating its main effort, has been "completely destroyed". "There's hell, and that's not an exaggeration," he said in his nightly address. "The bombing and shelling of other cities, the air

and missile strikes of the Russian army – all this is not just hostilities during the war."
Russia's foreign ministry said it would consider opening access to Ukraine's Black Sea ports only if the removal of sanctions against Russia was also considered. The remarks of the Russian deputy foreign minister, Andrei Rudenko, came after the UN food chief, David Beasley, pleaded with president Vladimir Putin, saying millions would die around the world because of the Russian blockade of the ports.
The US Congress has approved $40bn in military and humanitarian aid to Ukraine, with both parties eagerly backing the latest effort to support an ally under Russian assault. Final passage came as Antony Blinken, the secretary of state, said the US had authorised shipping Ukraine another $100m worth of weapons and equipment from Pentagon stocks.
Mykhailo Podolyak, Ukraine's top presidential adviser and a member of the negotiating team, said a ceasefire with Russia was "impossible without total Russian troops withdrawal". Podolyak said Kyiv was not interested in a new "Minsk", referring to the 2015 Minsk agreement, brokered by France and Germany, which attempted to secure a ceasefire between the Ukrainian government and Russia-backed separatists in the east of Ukraine.
Russia has said a further 771 Ukrainian troops have "surrendered" at Mariupol's besieged Azovstal steelworks, bringing the total number to 1,730 this week, while the International Committee of the Red Cross said it had started registering the Ukrainian prisoners of war who left the plant. It is not clear how many remain at the plant.


Putin's youngest daughter, Katerina Tikhonova, flew to Munich, Germany, "more than 50 times" between 2017 and 2019, travelling on chartered flights with full state support, according to an investigation by Germany's Spiegel magazine and independent Russian media outlet iStories. Her enthusiasm for Europe appears to match that of the oligarch "scum and traitors" Putin has decried since the start of the war.


Vadim Shishimarin, a 21-year-old tank commander, asked a Ukrainian widow to forgive him for the murder of her husband after pleading guilty on Wednesday to killing an unarmed 62-year-old civilian in the north-east Ukrainian village of Chupakhivka on 28 February.
Russia's promise to use lasers to shoot down drones in Ukraine has prompted widespread scepticism that the novel and possibly nuclear-powered weaponry could be deployed on the battlefield or have any significant impact on the war. Zelenskiy described it as a "wunderwaffe" – a nonexistent "wonder weapon" that was originally a propaganda invention of the Nazis.
The US president, Joe Biden, said Finland and Sweden "meet every Nato requirement and then some" to join the alliance and have the "full, complete backing" of the US. Speaking at a joint press conference at the White House with Sweden's prime minister, Magdalena Andersson, and Finland's president, Sauli Niinistö, he also said he was confident Turkey's concerns regarding their membership could be addressed.


The former German chancellor Gerhard Schröder will lose some of his post-office privileges after failing to cut his links with Russian energy companies over the Ukraine war, the Bundestag's budgetary committee has decided. Schröder – chancellor from 1998 to 2005 – will be stripped of his office and staff, which cost about €419,000 ($443,000) in taxpayers' money in 2021.
G7 financial leaders have agreed on $18.4bn aid to help Ukraine and said they were ready to stand by Kyiv and "do more as needed", according to a draft communique seen by Reuters. Finance ministers and central bank governors of the US, Japan, Canada, Britain, Germany, France and Italy are holding talks as Ukraine is running out of cash.
McDonald's has reached a deal to sell all its restaurants in Russia to one of its licensees in the country, the businessman Alexander Govor, who will operate them under a new name.
More than a million Ukrainian refugees have already returned home, according to the country's ambassador to the UK, Vadym Prystaiko. He said the mayors of Kyiv and Kharkiv had had to tell people not to return to the cities as it was still unsafe.
Russia's invasion of Ukraine has abruptly transformed the world. Millions of people have already fled. A new Iron Curtain is grinding into place. An economic war deepens, as the military conflict escalates, civilian casualties rise and evidence of horrific war crimes mounts.
It's our job at the Guardian to decipher a rapidly changing landscape, particularly when it involves a mounting refugee crisis and the risk of unthinkable escalation. Our correspondents are on the ground in Ukraine and throughout the globe delivering round-the-clock reporting and analysis during this perilous situation.
We know there is no substitute for being there – and we'll stay on the ground, as we did during the 1917 Russian Revolution, the Ukrainian famine of the 1930s, the collapse of the Soviet Union in 1991 and the first Russo-Ukrainian conflict in 2014. We have an illustrious, 200-year history of reporting throughout Europe in times of upheaval, peace and everything in between. We won't let up now.
Tens of millions have placed their trust in the Guardian's fearless journalism since we started publishing 200 years ago, turning to us in moments of crisis, uncertainty, solidarity and hope. We'd like to invite you to join more than 1.5 million supporters from 180 countries who now power us financially – keeping us open to all, and fiercely independent.
Unlike many others, the Guardian has no shareholders and no billionaire owner. Just the determination and passion to deliver high-impact global reporting, always free from commercial or political influence. Reporting like this is vital to establish the facts: who is lying and who is telling the truth.
And we provide all this for free, for everyone to read. We do this because we believe in information equality. Greater numbers of people can keep track of the global events shaping our world, understand their impact on people and communities, and become inspired to take meaningful action. Millions can benefit from open access to quality, truthful news, regardless of their ability to pay for it.
If there were ever a time to join us, it is now. Every contribution, however big or small, powers our journalism and sustains our future - The Guardian.